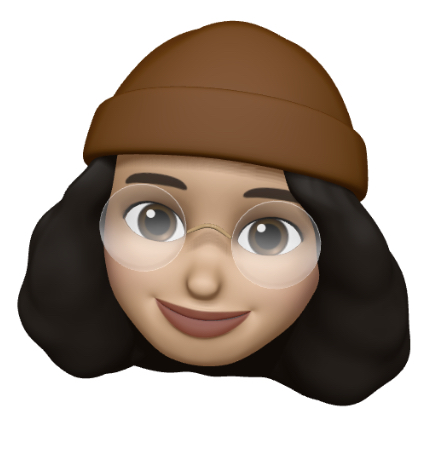 Priscilla
Chipper Cash
Discovery, Blueprint, Prototype, User Interviews & Research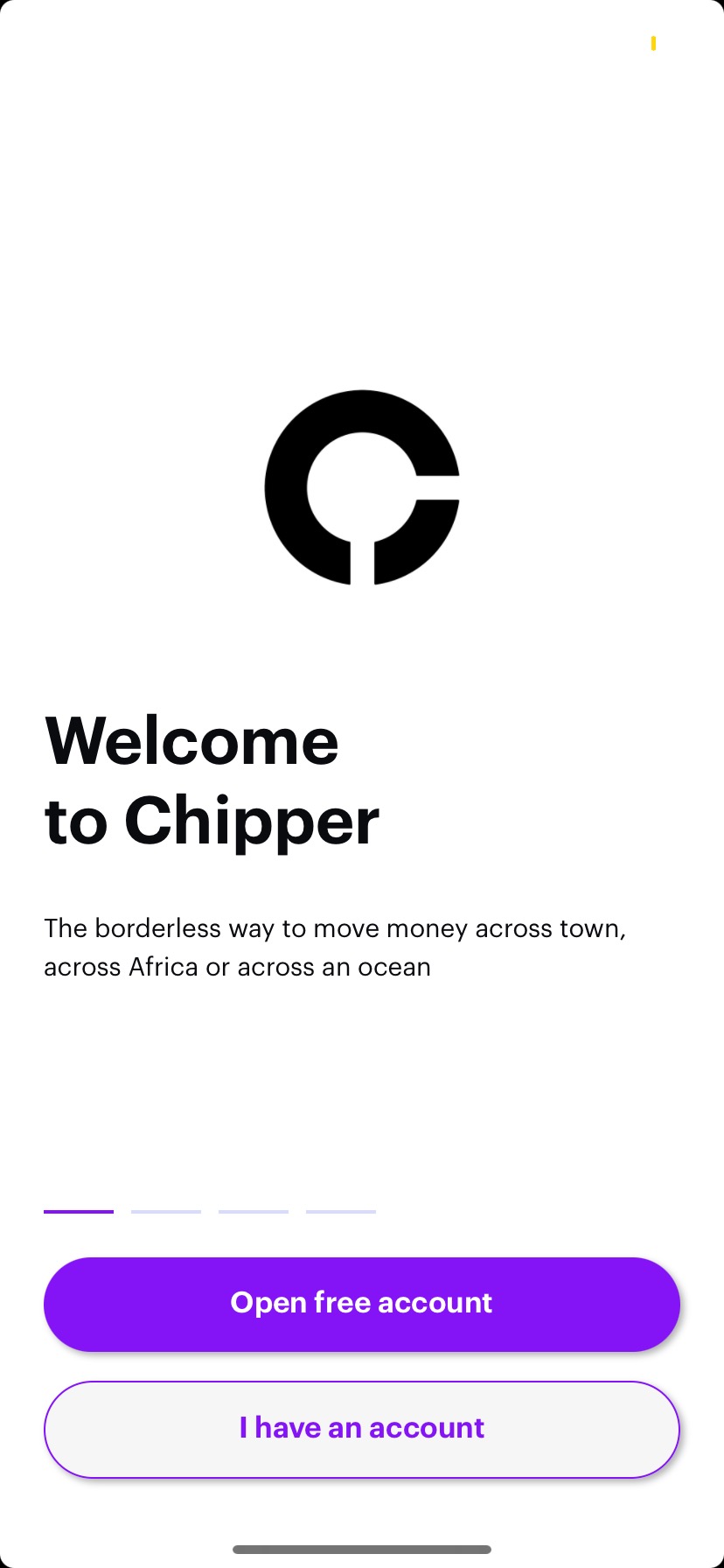 Project Scope: 12 weeks
Role: Product Designer
Tools: Miro, Notion, Figma, Google Suite, User Leap, Great Question, Zoom
Methods: Competitive Analysis, Surveys, Wire-framing, Prototyping, Usability Testing
Outcome: Researched "cashing-out" using USSD and discovered that "balance inquiry" was more valuable and easier to execute. This project was shipped.

What is Chipper Cash?
Chipper Cash is a mobile application that offers instant cross-border mobile money transfers.
Think Venmo, Cash App or even PayPal, but international.
A few notes ...
Before joining this project as a Product Designer the team conducted a survey to determine what the best solution might be for this problem statement.

I brought the solution to life, and met the success metrics by —

Creating a testable prototype that could also be built

Compiling the Research Analysis from User Interviews

Determining the focus of this feature and if it should be "Cash Out" or not
Next we have the ...
Let's start with market research.🔬
A USSD Market Fit Survey was sent out to Chipper Cash users in March 2021 to validate that there was a problem worth solving with USSD. There were a total of 385 responses recorded over a week.
The following questions were asked:
Do you always have access to a Wi-Fi or a mobile (3G/4G) connection?

Would you like to be able to cash-out in areas where Wi-Fi or mobile (3G/4G) connection is unavailable?

Have you ever had to use a mobile money transfer service when you have had no access to Wi-fi or mobile (3G/4G) signal?
Results:
74 Users don't always have access to WIFI or 3G/4G

323 Users would like to cash out in areas where there is no WIFI or 3G/4G

212 Users have had to use a mobile money transfer service when they have not had access to WIFI or 3G/4G
Additional Notes
The overwhelming "Yes" to the question "Would you like to be able to cash out in areas where Wi-Fi or mobile connection is unavailable?" highlights a need that USSD can uniquely fill.
Here's how:
Utilizing the mobile connectivity of telecom operators.

Helping users cash out on the most basic of mobile phones.

USSD is available any time of the day 24/7.

How does USSD work?
USSD most commonly involves a query generated by a cellphone user (such as a balance enquiry). Once this request is sent, the USSD gateway forwards it to the USSD application. The application then responds to the request, and the process is repeated in reverse: the response goes back to the USSD gateway, which displays the content of that response on the user's phone screen.
Scope & Constraints
Scope: First testing in Nigeria, with a focus on funds Cash Out capability.
Constraints:
Limited Screen Space (160-182 characters)

Limited Response Time (3 minutes/180 seconds, only 5-6 questions can be asked within this time frame)

Session Restarts (15 seconds to respond to question on screen)

Compliance (how much information can be shown/shared before it becomes a security risk)

Continuing to focus on our users needs, "Proto-Personas" were created. They are fictional users, workshopped with stakeholders in a meeting that was co-facilitated with the Design Director.
Here are two examples below.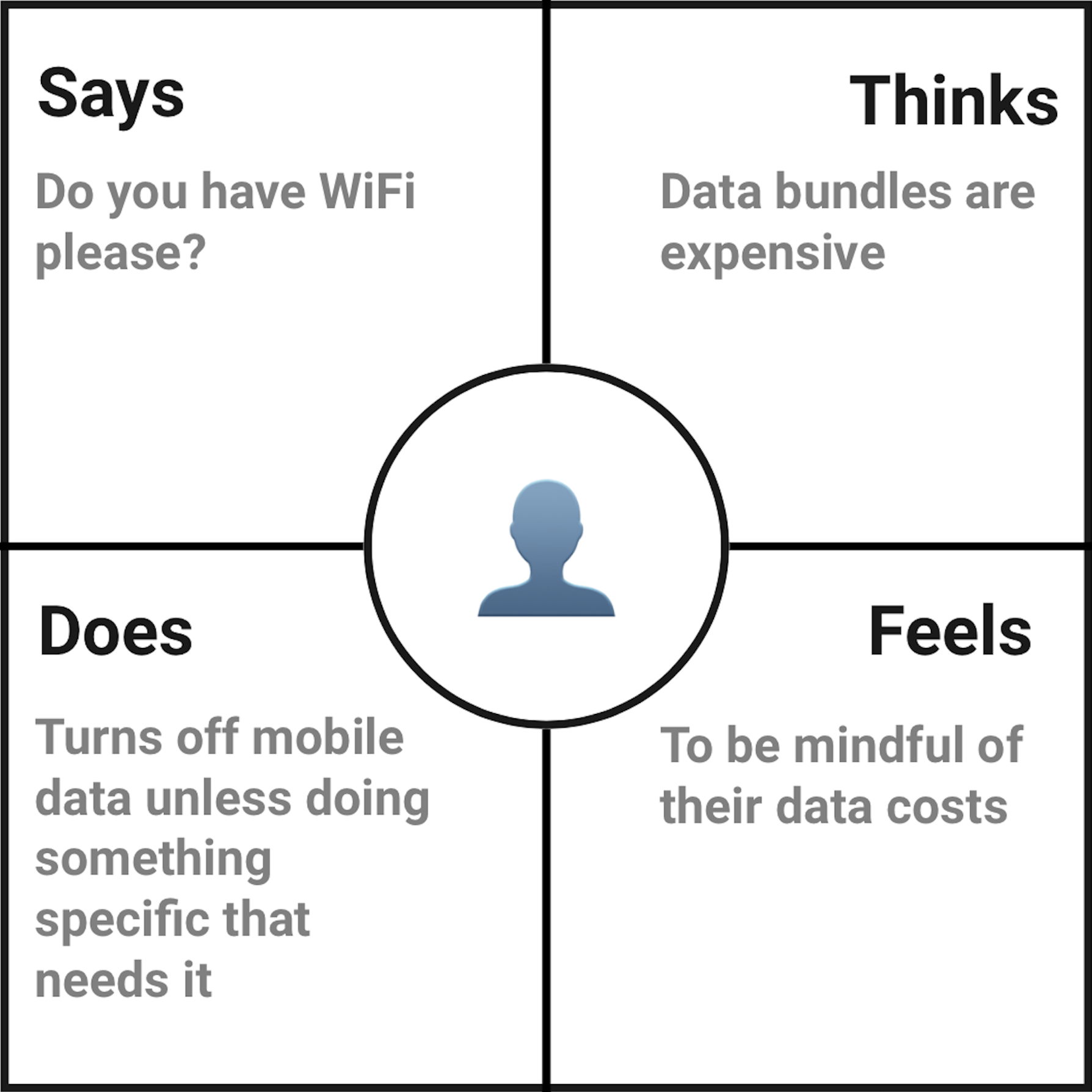 The Data Saver
A Chipper Cash user trying to cash out with internet access, but prefers to not use their own data.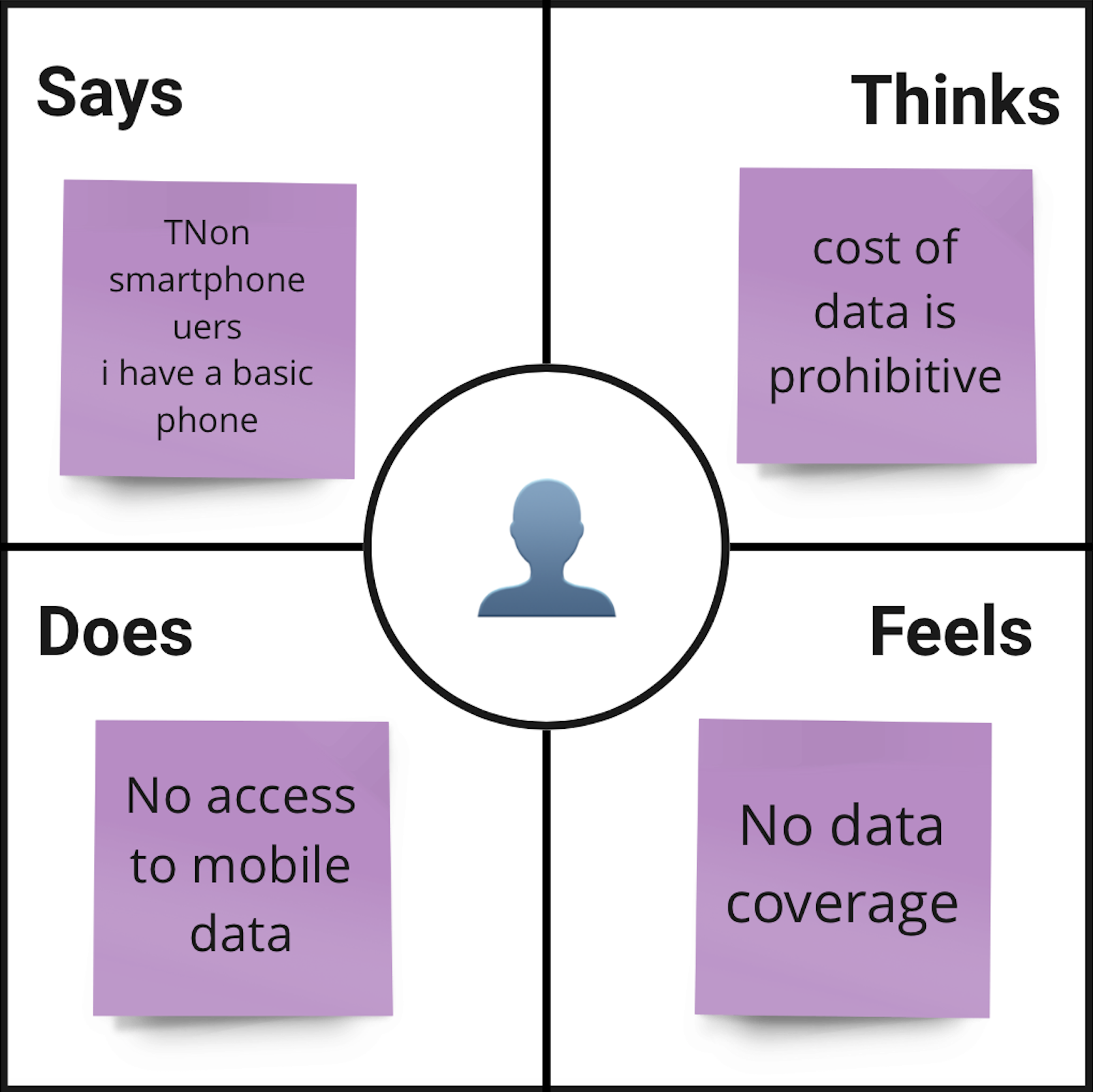 The Feature Phone User
A Chipper Cash user trying to cash out without internet access or a smart phone.
Additional key components to keep in mind for the Proto-Personas:
Needs/Goals
To not use personal cellular data

Access to cash out without internet access

Ability to cash out on a feature phone
Pain Points
Cost of Data

Can't always access funds

I question my trust in Chipper Cash

Does not always have a smart phone
Motivation
More personal financial control

Move money freely

Cash out funds so they can send it to family
Behavior
Preplan to cash out funds before traveling since Chipper Cash does not work without data

Make an effort to find locations with Wi-Fi or seek out an area that has 3G/4G connection

Contacts customer support for help
After identifying our potential users, the focus shifted to how a user might interact with the USSD service using a ...
A Service Blueprint captures the end-to-end experience. Front stage, backstage, and the behind the scenes of how the product is delivered and operated.
Sketches:
Note that USSD is limited in its ability to be styled. Since it has to work across all types of cell phones, including feature phones, we only get to design the text itself - the operating system handles actually displaying the text and the prompting the user for a response.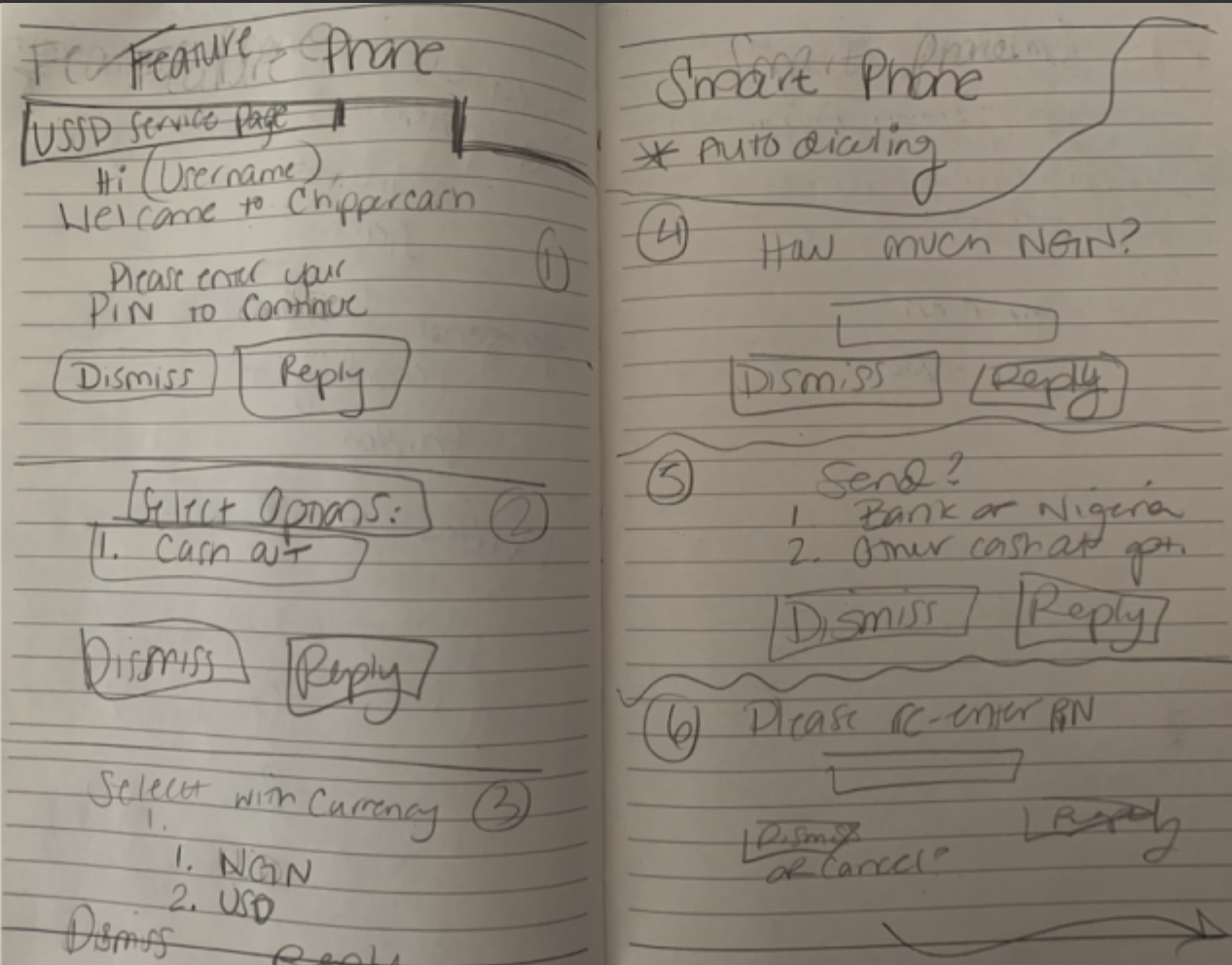 The idea behind this first sketch, was to write out a portion of the copy and number the possible questions.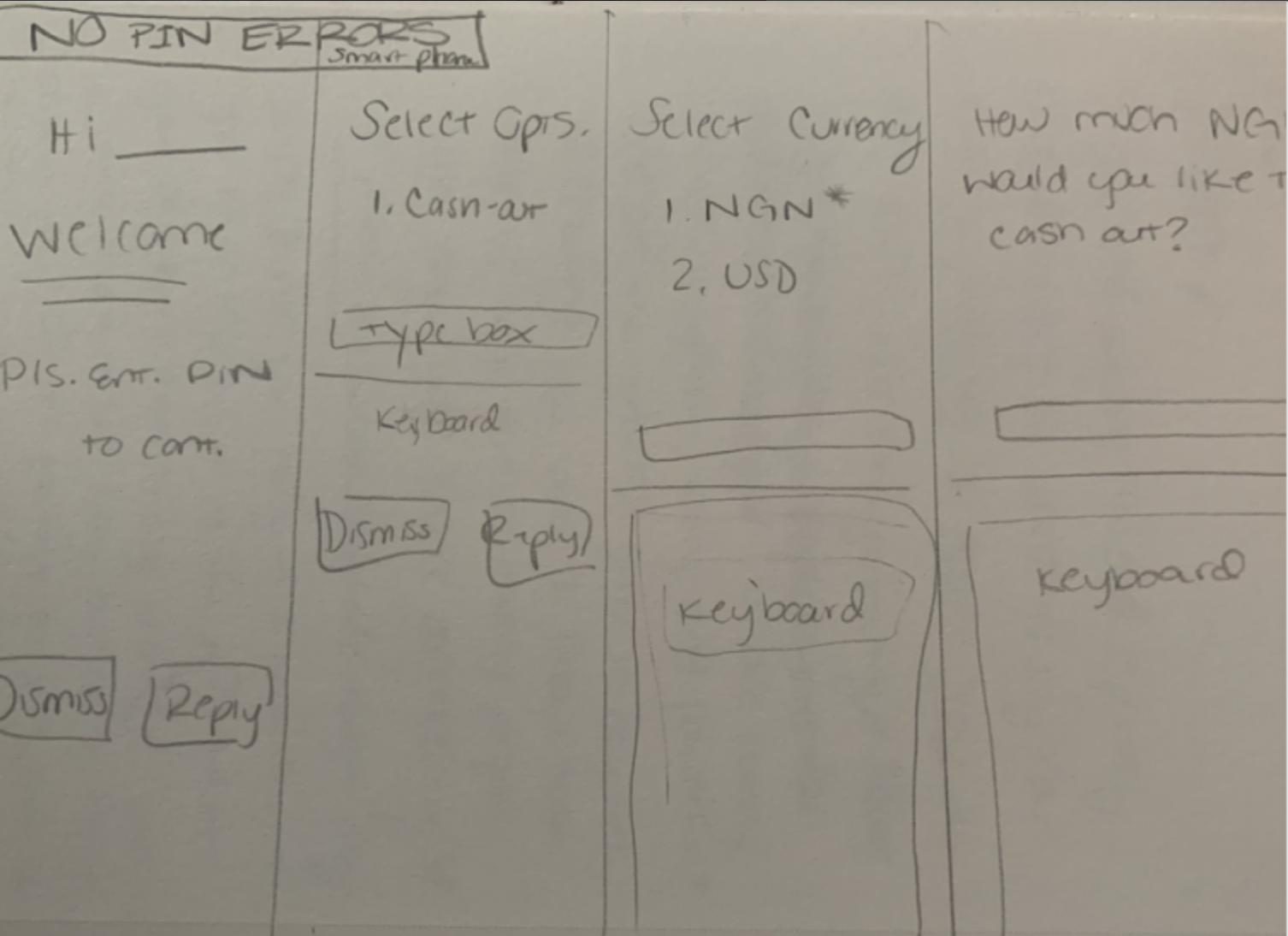 These sketches have a bit more of a clearer picture of what would be on screen, specifically for a smart phone user.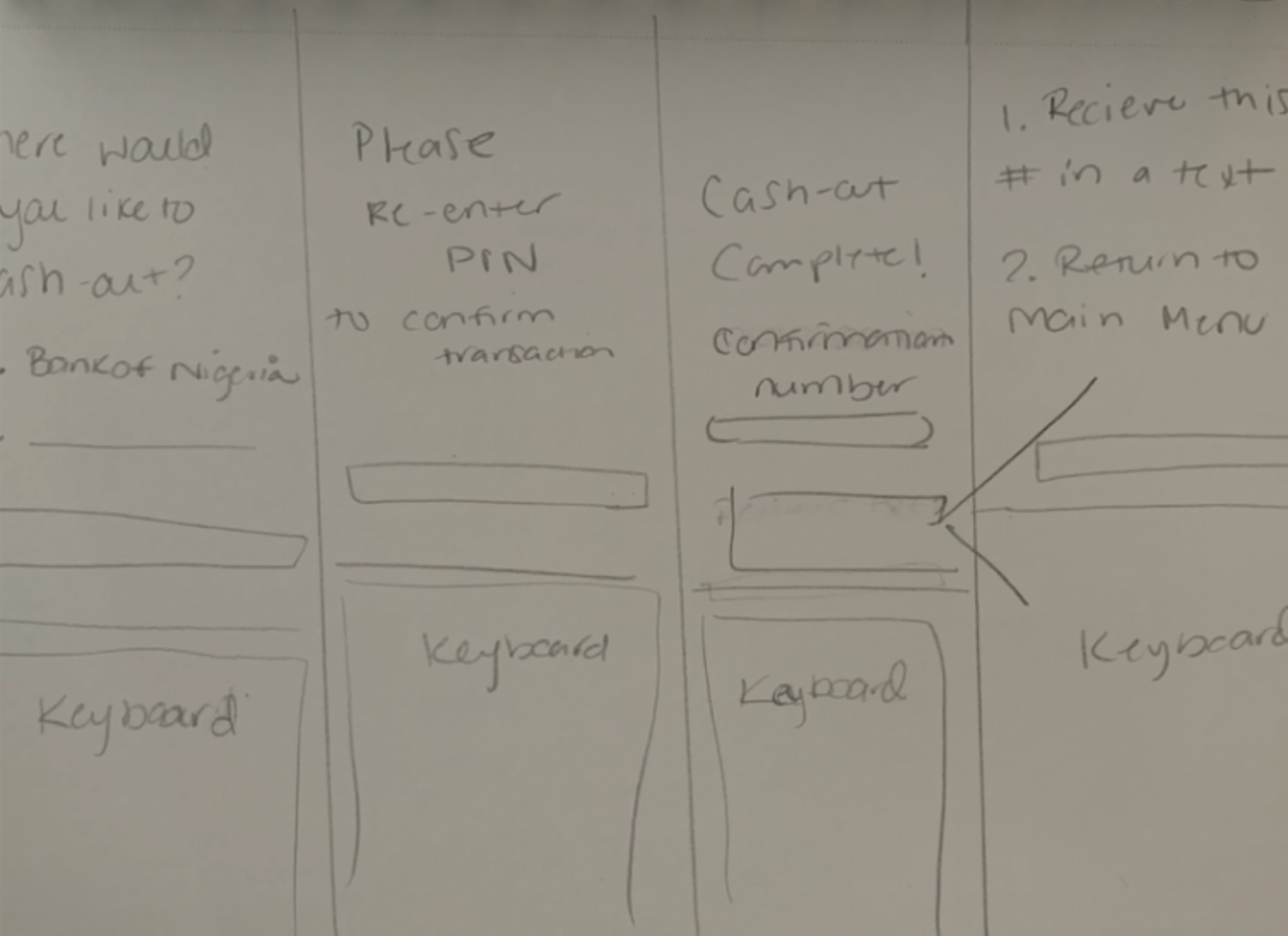 At this point there are roughly about 8 screens total. This felt like a great starting point to start working on a few explorations in Figma.
Please note ...
USSD is stripped down visually to work within all of the constraints.
Usable on any phone (smart phone and feature)

Limited Screen Space (160-182 characters)

Limited Response Time (3 minutes/180 seconds, only 5-6 questions can be asked within this time frame)

Session Restarts (15 seconds to respond to question on screen)

Compliance (how much information can be shown before it becomes a security risk)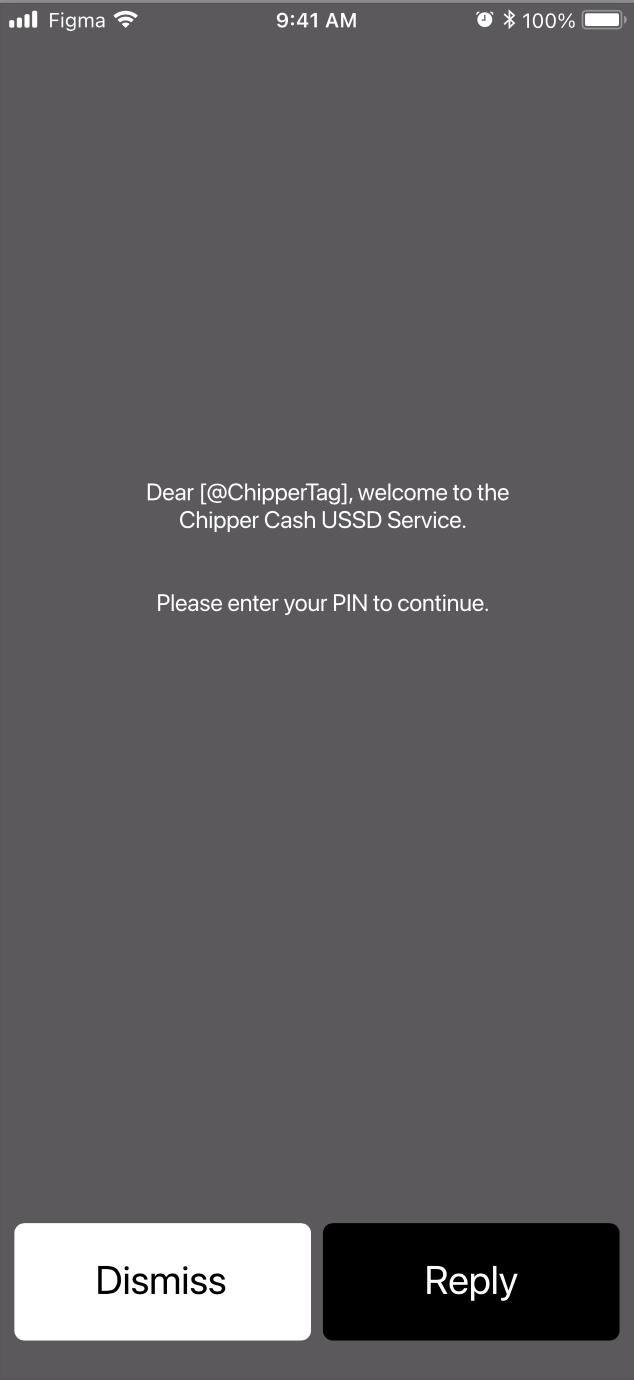 The Prototype
This prototype focuses on the iPhone UX. Android and feature phones will look slightly different.
Before presenting this prototype to the entire design team, it went through about 10-12 iterations, and roughly three rounds of individual feedback. 🙌
After presenting, about 4 more iterations of the prototype were created and shared with the Director of Design, before presenting to all the stakeholders.
Overview
Length of time: ~30 mins

Type of study: Prototype test (1on1 Interview
Selection Criteria:
KYC'd Nigerian Users

Users who have used USSD
Goal
Create a USSD flow that is quick and easy to use/understand.
Below is the miro board where the research is broken down into three sections.
Part I: Understanding Users' Trust and Comfort With Using USSD 🗣️

Part II: Testing the Prototype 🧪

Notes from every screen in the prototype

Additional Notes

Prototype Rating

Future features a user would like to see

Any additional thoughts and or questions the user had
Next ⏭️ ... Implementing Feedback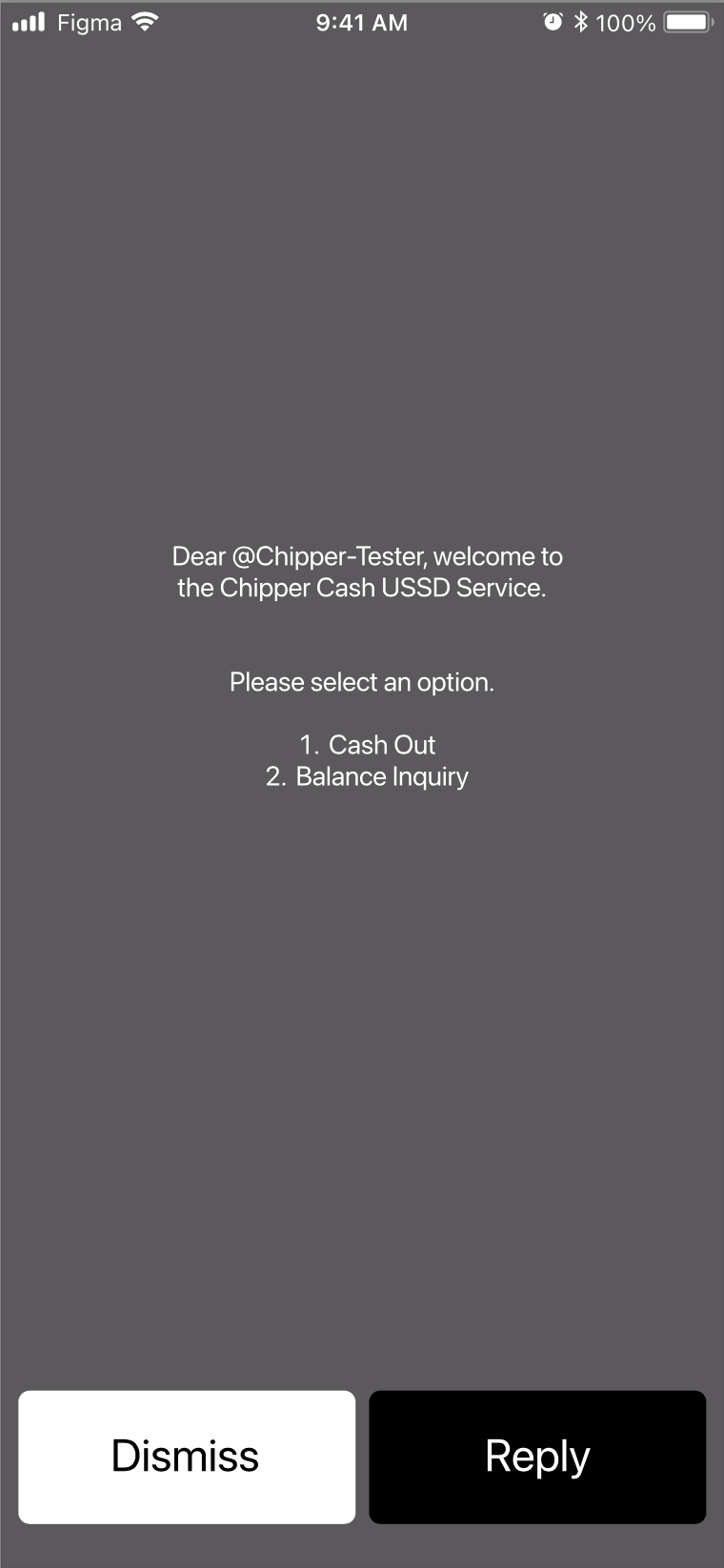 The user interview research analysis highlighted another key feature that this product needed — Balance Inquiry.
The mockup design to the left shows the added option for Balance Inquiry in the USSD Service.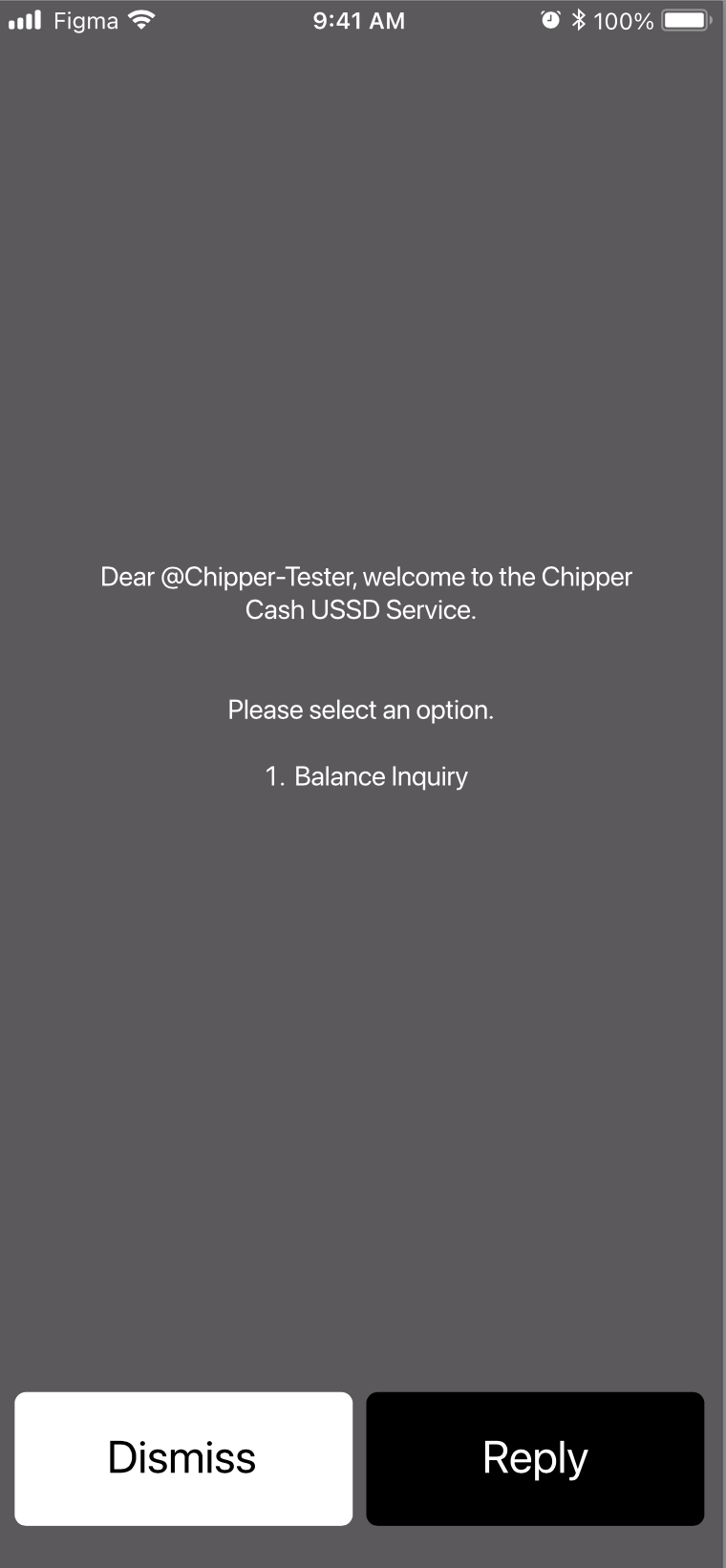 After multiple iterations, user testing, research analysis, and stakeholder feedback, the focus of this feature has shifted to "Balance Inquiry" first.
Based on user research 4/9 users requested to see this option.
I got better at working on continuous iterations of a project, being even more inquisitive about how design works, research analysis and moderating user interviews with connection issues.
What did I know going in?
I knew how this product would help users, and how it could open up more business opportunities for the company.
What didn't I know?
I knew nothing about how financial institutions worked in other countries. I had no idea how USSD worked and how it could be incorporated into Chipper Cash.
Challenges
One of the main challenges of this project is that this is a completely new feature being offered by Chipper Cash.

With it being new there are a lot of questions to be answered regarding cost, risk, engineering and overall more research to be done.

Another challenge I faced was quickly switching the focus from Cash Out to Balance Inquiry.

This change was made due to legal complications regarding what information can be shared with users during the cash out process.

By stepping up to this challenge, shifting the focus allowed me to create a design that is variable yet consistent, and lean yet considered, which are the design principles at Chipper Cash!

I learned how USSD works, helped identify the scope and constraints for this project.

Manufactured proto-personas with stakeholders to help identify potential users.

I learned how to use a Service Blueprint Map VS. User Journey maps, and where one works better than the other.

I wrote a user interview script to help guide me during interviews.

I challenged myself by asking new probing questions during the interviews based on user answers.

Created a research analysis deck backed by the data from the interviews.

I familiarized myself even more with Figma, and organizing my designs using it.

I learned about design systems, and how to create components to publish in a library for future USSD projects.

I learned how to become an even stronger independent thinker, to identify future research needs and features for this product.
Also, honorable mention to the entire design team for their patience, feedback and constant support. 😁🏅
Take a 👀 look at another Chipper Cash. design project below.
Goal: Improve onboarding experience to decrease user drop off during the verification process.
Here are a few screenshots of the first screen iteration.
The designs above tested out a few input methods, icons and color in regards to the full screen as well as text. After sharing this with the design team the consensus was a "less is more" approach.
Here are a few screenshots of the second screen iteration.
This design began to incorporate tap targets for users if they did not receive a code and the use of an "x" to leave the flow vs. a "←."
✨ Here is the full OTP flow for SMS. ✨